Professional Pest Solutions For Eastern Loudoun County, VA Properties
Located along the Potomac River, just over 40 minutes from Washington D.C., Eastern Loudoun County, VA, is a wonderful place to call home. We're known for our lovely scenery, rich history, and high quality of life. However, that quality is threatened when pests enter the picture. Unfortunately, local homes and businesses are at risk for pest infestation all year long, and that can have a lot of negative consequences for your property and everyone inside of it. To effectively protect yourself from pests, we recommend getting help from the pest pros.

The team at Bluebird Pest Solutions is here to address all your residential and commercial pest control needs. We are a locally owned and operated company that services properties throughout Northern Virginia, delivering pest-free results that homeowners and business owners can feel good about. We take the time to get the job done right the first time around, and we bring an unmatched level of knowledge, experience, and skill to every job we do. Reach out to us today for your complimentary estimate.
Home Pest Control In Eastern Loudoun County, VA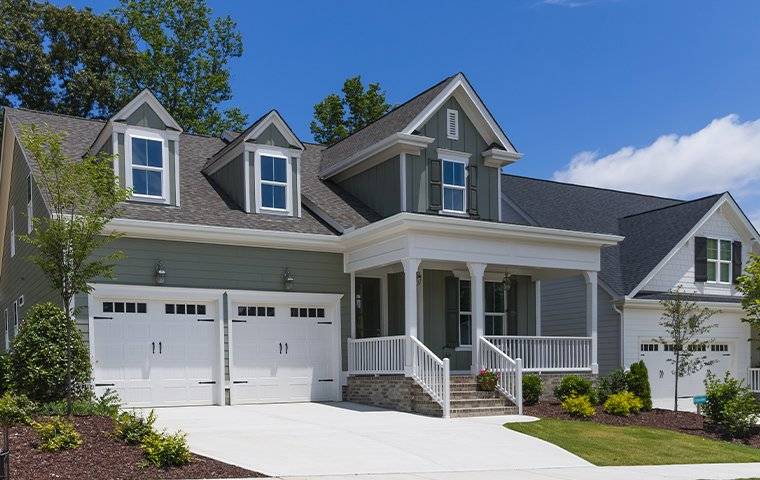 If you own a home in Eastern Loudoun County, you should be wary of pests. They enter our homes to find food, water, and shelter, and once they find it, they call all their friends over to join them. Your home deserves complete residential pest control services, and you've come to the right place. Bluebird Pest Solutions has a variety of service plans that can each be customized to suit your needs. Both our Premium plan and our Premium Plus plan give you complete coverage from a long list of household pests.

We also offer specialty services for mosquitoes and ticks, rodents, and termites. We consider ourselves a customer service company that does pest control, meaning we prioritize top-notch customer services, thorough communication, and same-day response times. Using IPM (Integrated Pest Management) methods and environmentally conscious treatments, we're here to protect your home, your loved ones, and the environment we live in. Call today to set up your free inspection.
Commercial Pest Control In Eastern Loudoun County, VA
Owning a business is a lot of work, and things become exponentially more difficult when pest activity becomes a problem. Our commercial pest solutions give local business owners comprehensive coverage from infestation. We've serviced a long list of facilities, including childcare, healthcare, hospitality, office spaces, property management, restaurants, and more. Our commercial services include:
Full exterior inspection for pest pressures.

Detection of entry points and specific pest needs.

Customized treatment plan using IPM methodologies.

Follow-up services as required to meet your needs, schedule, and budget.

Monthly billing systems with automatic payments.
From start to finish, we'll walk you through every step of the process, giving you the best pest service around. Our free re-service guarantee means if pests return after our services, we'll come back to re-treat the area at no additional cost. Reach out to us to get started; we look forward to assisting you.
Four Tips To Prevent Termites In Eastern Loudoun County
Termite damage is devastating, and it can seriously ruin your home or business. It poses a real threat to your safety, not to mention it's extremely costly. For these reasons, it's very important to do everything you can to avoid a termite infestation. Here are four tips to help you prevent termites around your Easter Loudoun County property:
1. Avoid wood-to-soil contact, and keep wood piles stored away from the base of the structure.

2. Eliminate any sources of rotting or moisture-damaged wood.

3. Eliminate excess moisture, as termites need moisture to build their nests and survive.

4. Inspect all wood being brought onto your property for signs of termites.
Though these preventative measures can help, it's still extremely important to reach out to a team of pest professionals. The experts at Bluebird Pest Solutions guarantee complete protection from termite infestation. Our termite control and prevention services are here to guard your property against damage. So, reach out today, and we'll set up your initial inspection right away.
Why Are Cockroaches In Eastern Loudoun County Hard to Kill?
A cockroach infestation can have serious health consequences for you and everyone else around your property. Local cockroach populations find their way inside local homes and businesses looking for food, water, and shelter, and when they start spreading, they can be very hard to get rid of. Why are cockroaches so hard to kill? Well, there are several reasons:
They're stubborn and they have strong immune systems.

They can survive even the direst weather conditions.

They are resilient survivors that can survive on waste and decaying matter.

They've developed a resistance to conventional pesticides over time.

They breed prolifically and have very high reproductive rates.

They're skilled at staying hidden away in different harborage spots.
Whichever way you spin it, the fact is it's extremely difficult to get rid of a cockroach infestation, especially on your own. The best way to go is to call on the pest professionals to address all of your cockroach control and prevention needs. Call Bluebird Pest Solutions today for roach-free results you can rely on; we're here to help.
Service Areas In Eastern Loudoun County
Request Your Free Quote
Complete the form below to request a no obligation quote.