Professional Pest Solutions For Fairfax County, VA Properties
Established in 1742, Fairfax County, VA is filled with historic sites and continues to be one of the top-rated communities in the area. We're just minutes from Washington D.C., and we're home to around 1.2 million residents. With such a big population, it's no wonder why we have considerable pest activity throughout the year. Fairfax County homes and businesses are at risk for pest infestation all year long, and the best way to protect yourself is to get in touch with your local pest professionals.

Bluebird Pest Solutions is here to help. We are a locally owned and operated pest control company with a steadfast dedication to top-notch customer service. In fact, we consider ourselves to be a customer service company that does pest control. With thorough communication, same-day response times, and a free re-service guarantee, you can count on our services to meet your needs. Reach out to us to request your free estimate and inspection.
Home Pest Control In Fairfax County, VA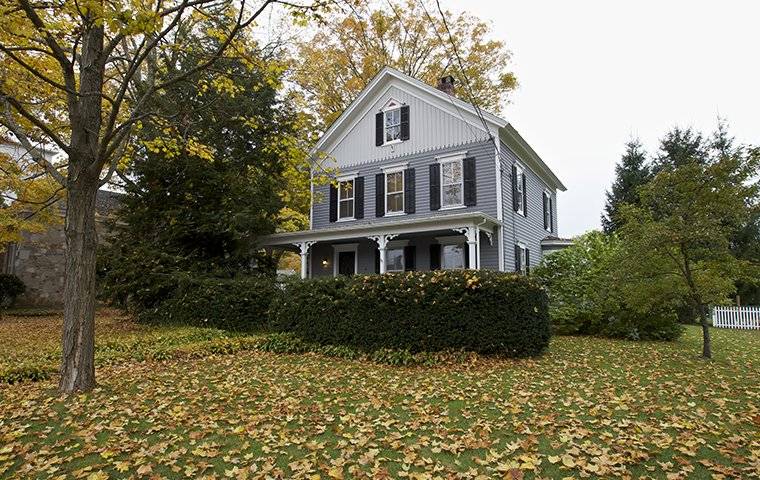 The most effective way to guard your Fairfax County home against household infestation is to secure ongoing services from the pest experts. Here at Bluebird Pest Solutions, we bring homeowners residential pest solutions that deliver lasting results. Our home service plans include:
Premium
Starting at $45 per month.
Quarterly exterior pest control.
Interior service as needed.
Exterior de-webbing services.
Quarterly treatments.
Covers over 40 pests.
Free re-service.
General pest control.
Outdoor rodent control as needed.
General exclusion maintenance.
Premium Plus
Starting at $70 per month.
Premium +
Termite control with Trelona ATBS.
Bait stations.
Annual termite inspection.
Mosquito & Tick
Starting at $55 per month.
Service every four weeks between April - October.
All-natural mosquito and tick solutions.
In2Care Ovipositor system.
All-natural repellent barrier.
Inspection and treatment of water.
Sources with larvicide.
Whatever kind of household pest problem you're up against, you're not in it alone. We're here to walk you through every step of the process, bringing you the most thorough and professional pest solutions in the area. Contact us to discuss your residential pest control needs today and we'll get started right away.
Commercial Pest Control In Fairfax County, VA
Fairfax County businesses are unfortunately very vulnerable to pest activity. Your facility has everything they want, and usually in larger quantities than a house. Professional pest protection is key to avoiding infestation, and we're here to provide it to you. Our commercial pest process includes:
Full exterior inspection for pest pressures.

Detection of entry points and specific pest needs.

Customized treatment plan using IPM methodologies.

Follow-up services as needed to meet your needs, schedule, and budget.

Monthly billing systems with automatic payments.
Our team of experienced pest technicians is proud to service local businesses with comprehensive commercial pest control solutions that work. We've worked with all kinds of facilities, including childcare, healthcare, hospitality, office spaces, property management, and restaurants. Give us a call today to get the process started; we're here to help.
The Secret To Effective Roof Rat Control In Fairfax County
Roof rats can be extremely destructive as they get into the structural elements of your property, causing widespread damage and putting your safety at risk. To assist you in your roof rat control efforts, here are some effective ways to prevent roof rats in your Fairfax County home or business:
Blocking off cracks & crevices.

Eliminating excess moisture.

Keeping tree trimmings & woodpiles away from the property.

Maintaining cleanliness.

Reducing clutter.

Reducing food & water sources.

Sealing entry points.
For quality rodent solutions that you can count on, the best way to go is to get ongoing services from the pest professionals. Bluebird Pest Solutions is here to help. Our team will identify all roof rat activity, exterminating them from the premises, and making the necessary modifications to make sure the population doesn't spread any further. Reach out to us to discuss your rodent control needs today.
Four Simple Yet Effective Ant Control Tips For Fairfax County Property Owners
When ants get into your property, they spread quickly and can be very hard to get rid of. The best way to approach ant control is to be proactive. The sooner you get ahead of the problem, the more likely you are to reduce your chances of experiencing an infestation. Here are four ant control tips to help you protect your Fairfax County property:
1. Eliminate access points by sealing all cracks and crevices around the outside of the home.

2. Keep branches, trees, and bushes well-trimmed and directed away from the house.

3. Maintain a high level of cleanliness and practice proper sanitation.

4. Use a dehumidifier in damper areas of the house like basements, crawl spaces, and attics.
No matter how hard we try, sometimes ants manage to get onto your property anyway. It's frustrating, but the good news is you don't have to deal with it on your own. If you want guaranteed, year-round protection from ant activity, look no further than the pros at Bluebird Pest Solutions We offer complete ant control and prevention services to keep you protected all year long. Call us today.
Service Areas In Fairfax County
Request Your Free Quote
Complete the form below to request a no obligation quote.