Professional Pest Solutions For Prince William County, VA Properties
Prince William County, VA, is scenically located along the Potomac River and is the second-most populated county in the state. With so many people around the area, there are ample sources of food, water, and shelter at every turn. Unfortunately, these sources are exactly what local pest populations are looking for. Prince William County properties are vulnerable to pest infestation all year long, and the best way to protect yourself is with professional pest control solutions.

Bluebird Pest Solutions is a locally owned and operated pest control company that is proud to provide complete pest solutions to properties throughout Northern Virginia. We service homeowners and business owners with the best residential and commercial pest protection around, and our services are 100% guaranteed. Contact us today for a no-obligation quote; there's no time to waste when it comes to infestation. As a customer service company that does pest control, we prioritize top-notch customer communication and impeccable service. Reach out to us to get your free quote and inspection.
Home Pest Control In Prince William County, VA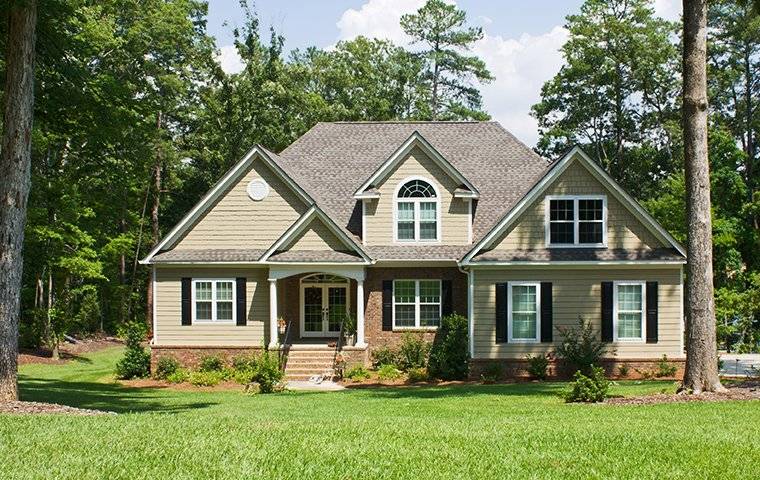 If you want to protect your Prince William County home from the threat of pest infestation, it's a good idea to call in the professionals. Bluebird Pest Solutions offers complete residential pest control services that guarantee year-round coverage from common area pests. Our home service plans include:
Premium
Starting at $45 per month.
Quarterly exterior pest control.
Interior service as needed.
Exterior de-webbing services.
Quarterly treatments.
Covers over 40 pests.
Free re-service.
General pest control.
Outdoor rodent control as needed.
General exclusion maintenance.
Premium Plus
Starting at $70 per month.
Premium +
Termite control with Trelona ATBS.
Bait stations.
Annual termite inspection.
Mosquito & Tick
Starting at $55 per month.
Service every four weeks between April - October.
All-natural mosquito and tick solutions.
In2Care Ovipositor system.
All-natural repellent barrier.
Inspection and treatment of water.
Treating with larvicide.
Along with our basic pest control services, we provide specialty services for mosquitoes and ticks, rodents, and termites. With over seven years of experience in the pest control industry, our technicians have the expertise to deliver the results you're looking for. We take that time out to get the job done right the first time around. So, contact us today, and we'll get started right away.
Commercial Pest Control In Prince William County, VA
Here at Bluebird Pest Solutions, we provide comprehensive commercial pest solutions that local business owners can depend on. We protect an array of businesses from infestation. Some of the industries we service include childcare, healthcare, hospitality, office spaces, property management, and restaurants. Our environmentally conscious solutions are always customized, and always effective. Whatever your pest problem, we've got your back. Get in touch with us today to discuss your commercial pest control needs.
Mosquito Control Every Prince William County Needs To Know
It's important to avoid mosquitoes, not only for the itchy bites they leave us with but also because of the vector-borne illnesses that they can transmit into those they bite. These parasites pose a real threat to your health, and that's why it's crucial to take preventative action. Here are mosquito control tips to implement around your Prince William County property:
Divert water away from the house by maintaining gutters and downspouts.

Eliminate sources of standing water.

Keep doors closed as often as possible.

Keep vegetation well-trimmed and keep the grass short.

Repair any screens that have been damaged or ripped.

Use insect repellent and wear treated clothing

Use window and door screens to prevent entry.

Wear long pants and long sleeves when possible.
While it's great to be proactive, the only guaranteed protection from mosquitoes is ongoing services from the pest professionals. Contact the team at Bluebird Pest Solutions for all of your mosquito control and prevention needs. We're here to provide year-round protection from mosquito activity.
Termite Warning For Homeowners In Prince William County
Termites infestation can go unnoticed for long periods of time, meaning these wood-eaters can cause large-scale damage, not only compromising your safety but your finances as well. Termites eat through wood, threatening the structural integrity of your home, and it's important to be able to detect indications of infestation. Here are common signs of termite activity to be on the lookout for:
"Gallery tunnels," which are little passageways they build with saliva and dirt/mud for protection.
"White ants" that are actually worker termites with cream-colored bodies.
Cast off wings of swarmer termites found near doors and windows.
Munching noises and clicking sounds coming from the walls.
Pellets and piles of powder from where they burrow in wood.
Swarmer termites flying around in groups looking for places to nest.
Weakened wood that can be pierced by a screwdriver.
Wood that is warped, moist, and damaged.
Wood that sounds hollow when you knock on it.
If you suspect any termite activity on your Prince William County property, it's a good idea to contact the pros right away. The safety of your property is at stake, and the most reliable protection you have is from the pest experts. Contact Bluebird Pest Solutions today to schedule your initial inspection, and we'll get started right away.
Service Areas In Prince William County
Request Your Free Quote
Complete the form below to request a no obligation quote.